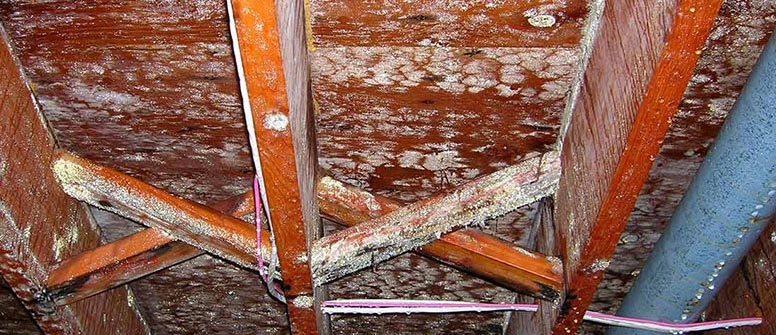 Got mold?
Strong musty odors, damp areas around plumbing and discolored walls can all be signs that mold has entered your home or business. It's a common problem here in Vancouver, Portland and throughout the Pacific Northwest, and one that will remain with us so long as we keep our rainy climate.
Exposure to mold colonies can cause allergic reactions, asthma and respiratory problems. And some types of mold, such as "black mold" (Stachybotris chartarum), also generate mycotoxins, toxic components which may cause headaches, memory loss and mood swings.
Mold can start growing in as little as 48 hours once it finds a suitable wet area in your home or business. Spores are naturally in the air wherever there is moisture, and colonies can grow rapidly when exposed to water from cracked pipes or a leaky roof.
Mold Removal vs. Mold Remediation
So how do you get rid of these floating invaders?
Armored Restoration uses green, environmentally friendly "Cold Jet" mold removal technology to essentially kill and freeze mold where it lives. In the process, dry ice (CO2) is sprayed on the affected areas, which causes mold to shrink and detach from surfaces. Because dry ice has a low temperature of -110 degrees, the mold essentially freezes and then dies from the cold, which it is not adapted to.
Other older methods of mold remediation use chemicals to wash away surface mold and mildew, but those methods don't penetrate as deeply and are harder to get into awkward areas. And that means mold can return faster – or may not fully leave in the first place.
Chemical methods can also leave behind cleaning byproducts that must be disposed of, unlike the Cold Jet method which has no byproducts.
Dry ice blasting with the Cold Jet method removes mold more completely and more quickly than other methods like mechanical abrasion – where surfaces are scrubbed – and it does not require harsh chemicals. The technology also allows for ice blasting through a variety of specially shaped nozzles that can get into hard to access areas.
Another benefit to the new technology is that it kills mold in one application, unlike chemical methods. And dry ice doesn't conduct electricity, which means mold removal can be done without removing or working around electrical systems.
We also offer chemical methods of mold removal and will work with you to determine which method best fits your needs.
Know that the process worked
So how do you know when your mold problem is gone?
Armored Restoration has a suite of mold mitigation services to help you be certain. The company performs indoor air quality tests, mold identification, Cold Jet mold removal technology, structural drying and dehumidification, HVAC cleaning, decontamination, disposal of contaminated materials and finishes up with a clearance test to make sure the mold is gone.
Do you need help?
If you think you may have mold issues, please contact us for a no cost Obligation-free inspection.